Embracing Change Conference 2022 - please click here to register   
EventMergers is a boutique conference management company which provides tailored services to corporate, association and other organisations located in New Zealand and the Australasia region. The company is owned, operated and led by  Director  Carlene Martin, who brings over 22 years' experience in the conference and event management industry. EventMergers was established in 1999, when Carlene saw a growing need for a hands-on holistic approach to event and conference management. Her approach consequently developed a niche market for delivering fresh, effective and measurable conference and event marketing solutions.
This successful and personal approach led to a successful growing business enterprise. The company continues today to offer a full array of conference and event management services including; project management, strategic planning, on-line services web/registration/ surveys, marketing, program/entertainment/theming, accommodation/travel logistics, sponsorship/ exhibition, speaker recruitment, on-site management and more! The company has capable in-house staff that dedicates themselves to a near invisible back- up support, as well as an array of external consultants utilised as needed. EventMergers is a member of the following organisations:
• Conventions and Incentives New Zealand
• Auckland Convention Bureau
• Auckland Chamber of Commerce
• Women in Business – New Zealand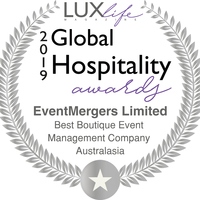 Their successful approach has seen EventMergers garner several industry awards including the 2019 Lux Life Global Hospitality Award for the Best Boutique Event Management Company Australasia and the Best Nationwide Event Managers and Professional Conference Organisers in New Zealand two years running.